History of Chicago's Gloria Dei Lutheran School and Church in Garfield Ridge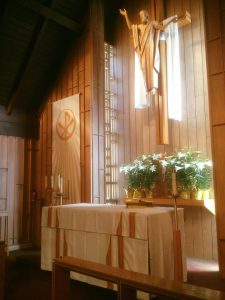 On November 12, 1939, a group of Lutherans began holding Services in a bungalow on the northeast corner of Parkside Avenue and 52nd Street. On January 24, 1940, a resolution was adopted to organize a Lutheran congregation and the Rev. Hugo Bloedel was called to serve as Pastor. The name of the new Lutheran congregation was Parkside Avenue Evangelical Lutheran Church.
On March 3, 1940 the trustees were directed to purchase six lots on the northeast corner of South Major Avenue and 53rd Street. On May 18, 1941, the cornerstone was laid, and on September 28, 1941, the church building was dedicated.
On August 3, 1941, the congregation chose its new and official name, Gloria Dei Evangelical Lutheran Church (Gloria Dei is Latin for The Glory of God).
Seven pastors have served Gloria Dei Lutheran Church: Hugo S. Bloedel, Henry J. Behrens, John F. Bauermeister, Elmer J. Sedory, William P. Yonker, Franklin H. Giebel, and Steven J. Anderson. The longest serving was the Rev. Elmer Sedory who served at Gloria Dei from 1955 until his retirement in 1988. Gloria Dei has been served since 2003 by the Rev. Steven J. Anderson.
It was during Rev. Sedory's pastorate that Gloria Dei Lutheran School was built and the church building extensively renovated. The renovated church and brand new school were dedicated in September of 1960. Gloria Dei Lutheran Church has run and maintained the Lutheran Day School continuously since that time, served by many faithful teachers. The school has been served by four principals: Mr. Donald Marten, Mr. Douglas Rebeck, Mr. Scott Schilling, and our current Principal Virginia I. Terrell.